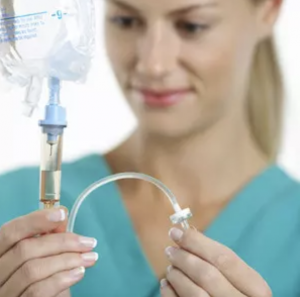 We know that fear is a frequent struggle when it comes to going to the dentist. That's why Drs. Jason Campbell, Rick Farnsworth and Mitchell Grimmer want to offer all they can to make sure our patients have a happy and relaxed experience. IV sedation is a procedure that can help you relax during appointments and procedures. It is an entirely safe alternative to sedation due to the fact that you are awake and able to talk to your dentist whenever you need to. That way you can be comfortable during your time here, so much so that you can get all of your dental work done in one day.
Through the use of IV sedation there is a quick, easy and safe process that can help you to relieve the stresses of going to the dentist. Not only that but it can help with having less pain after your appointment, less swelling, an easier time to get numb before a procedure, and a faster recovery in general. IV sedation can ease some of the fears associated with going to the dentist which means you and your teeth can get the care you need.
If being stressed at the cost of your teeth is something you're struggling with, IV sedation may be the option for you. It can also help with bad gag reflexes, pain, if you have trouble getting numb, and those struggling with allergies or cold symptoms. Call us at 928-776-1208 for more information or to come in for a visit so we can make sure you no longer have to be afraid of the dentist. We'd love to help you decide if IV sedation is right for you.