When you have lost a tooth, our dentists at Pro Solutions Dental Group may recommend a dental implant to replace it and restore the function and appearance of your smile. Dental implants are a permanent solution for your missing teeth and help you maintain the bone density of your jawbone as well as filling the gap between your teeth. Call 928-776-1208 today to schedule your consultation with Drs. Jason Campbell, Rick Farnsworth and Mitchell Grimmer, and to learn if you are a candidate for dental implants in Prescott, Arizona.
Are Dental Implants for Me?
Over the last several years, dental implants have become an increasingly popular way for people with missing teeth or uncomfortable dentures to regain confidence in their smiles. Although the option of receiving dental implants has been around for quite some time, modern technology has made implant procedures more accurate and efficient, and superior to many other treatment options.
You may be a good candidate for dental implants if:
You need to replace one or more missing or damaged teeth
Your jaw bone is sturdy enough to anchor implants
You are healthy enough for surgery
Replacing Teeth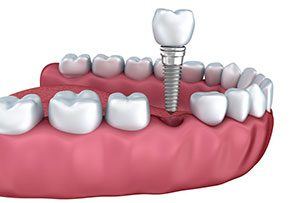 Teeth may need to be replaced for a variety of reasons. Some patients experience some sort of trauma from accident or injury, resulting in lost or damaged teeth. Others may have serious decay that can no longer be treated with other restorative methods. Many implant patients are already edentulous and are looking for a way to improve ill-fitting or painful dentures. We see everybody from young athletes to seniors and retirees.
Regardless of the reason for your missing teeth, finding a suitable replacement is of the utmost importance. Obviously there are cosmetic considerations: if your missing tooth has left a visible gap when you smile, you might feel self-conscious or embarrassed. But even if your missing tooth does not affect your appearance, it should be replaced as soon as possible. When a tooth is missing, the other remaining teeth begin to shift and fill the gap. This can impact your bite, eventually leading to jaw issues or malocclusion.
Missing teeth also mean trouble for your jaw bone. One of the most common issues experienced by edentulous patients is bone loss in the jaw. This results in changes in appearance like a "sunken" look in the face. Continued bone loss also means implants may no longer be a viable treatment option. But if placed soon after the removal of teeth, dental implants help prevent bone loss.
Bone Density
Dental implants can be placed in patients of virtually any age as long as their jaw bone is of appropriate density. Bone density varies in all people due to factors such as age, sex, and various health indicators. The advanced imaging technology we use at Pro Solutions Dental Group helps us determine whether a patient's bone structure is appropriate for dental implants.
If it is determined that your jaw cannot currently support implants, it is not the end of the road. Bone grafting procedures have become quite common, and help shore up brittle or porous bone structures so that a patient can receive dental implants. We can further consult with you to see if a bone graft would be suitable.
General Health
A patient's general health is one of the most important considerations before receiving dental implants. Implant placement can be a complex procedure requiring weeks or months of recovery. Persons with secondary health concerns or conditions such as diabetes may not be ideal candidates for dental implants. While children can receive implants, it is common to wait until a patient is at least 18 years old before placement. All potential implant patients receive an in-depth consultation with Dr. Campbell, Dr. Farnsworth or Dr. Grimmer to determine the best treatment option for them.
Receiving Dental Implants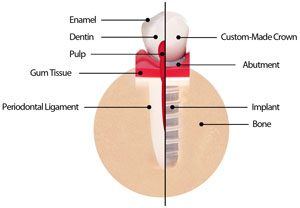 During your consultation, our dentists will carefully evaluate your oral cavity to see if you are a candidate for dental implants, and to begin planning treatment. This may include taking X-ray images of your mouth. We may also use our Orthopanthomograph® 3D CT Imaging System. With this technology, our dentists can get crisp, detailed images of your facial structure. This provides a more accurate and precise treatment plan and optimizes your oral health with correct implant placement.
Before placing implants, any remaining teeth needing replacement are extracted. When any extraction sites are adequately healed, we can begin placing implants. During the dental implant procedure, a titanium screw-like post is surgically inserted directly into your jawbone. This post is completely biocompatible and will effectively replace your tooth's roots.
A period of healing is then required. The implant post needs to bond with the bone in a process called osseointegration. In a few months, the post is ready to receive whatever restoration our dentists and team have planned for you. In the meantime, a temporary restoration is placed to protect the implant site and allow you to eat and speak comfortably. Be careful with this temporary restoration, especially immediately following implant placement. When your implant has completely integrated with your jaw bone, you will be ready to receive your new permanent restoration. Types of typical implant restorations include single crowns, bridges, and full arches or dentures.
Benefits of Dental Implants
There is a reason dental implants have become one of the top restorative options for patients with missing or compromised teeth. Dental implants look and feel like your natural teeth, giving you a strong, beautiful smile again. Our restorations are made of high-quality materials that precisely match the shade and luster of your natural teeth. You might even forget that you ever got implants!
Dental implants are also the only tooth replacement option that fully replicates the entire tooth structure, resulting in a longer-lasting restoration. In fact, if properly cared for, dental implants can last a lifetime. Because implants replicate tooth roots, they help support bone structure that might otherwise be lost, and give your bite the strength to enjoy your favorite foods with confidence.
Learn More
If you are interested in learning more about dental implants in Prescott, Arizona, we urge you to contact our friendly dental team today. We would love to schedule a consultation with Dr. Campbell, Dr. Farnsworth or Dr. Grimmer. We also invite you to peruse the following pages for more information about the kinds of implant restorations offered at Pro Solutions Dental Group:
Give us a call today at 928-776-1208 to start your journey to a beautiful new smile!