This article was originally published in the Daily Courier.
Dental problems haven't changed over time, but the technologies used to diagnose and treat them have revolutionized the dental office and patient care.
Following below are some of the innovative ways that the field of dentistry is helping dental care providers to treat their patients' dental problems with the best care available in the most efficient way possible.
These new technologies allow dentists to diagnose and treat patients more effectively and with less discomfort for the patient.
Some of these new technologies include the following: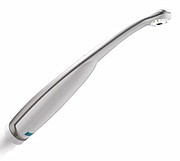 Digital bite analysis: This technology utilizes a thin sensor, upon which a patient bites. The devise measures — and indicate the location o f — bite discrepancies. With this data, a dentist can adjust a patient's bite to allow for teeth to fit together more harmoniously while biting and chewing. Removing interferences in the bite can help a patient's muscles to relax and can, thereby, relieve a range of symptoms, including TMJD — temporomandibular joint dysfunction — as well as migraines and various myofascial pain.
Dental laser: This technology can be used to treat hard and soft tissues in the mouth. Using a laser causes less bleeding, and healing from laser surgery can also be less painful. Lasers can be used in addition to traditional periodontal treatment and can also be used for cosmetic purposes, such as gingival reconturing, to reduce the appearance of a gummy smile.
Digital oral scanner: This technology is used to create a digital map of the teeth and oral structures. The digital impression can be used to design a needed restoration. These scanners reduce the need for traditional impressions, which can be bulky and cause patients to gag. Instead, the digital oral scanner uses material that is less distasteful and more comfortable for patients.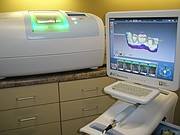 Cone beam computer tomography (CBCT or CT): This digital radiography creates a three-dimensional image of the patient's mouth and or teeth. Such an image can be useful in planning for dental implants and placement, making the procedure and outcome more predictable. In cases that require more planning, the digital scanner, CAD/CAM and the CBCT can be used in combination. A digital scan of a mouth can be overlayed on the 3-D image of the underlying bone, allowing for a better prosthetic outcome.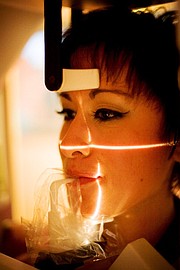 Digital x-rays: Digital radiographs are captured on a sensor that can be imported quickly to a computer for analysis. Digital x-rays require a small percentage of the radiation that traditional x-rays required, reducing patients' exposure to radiation.
Adjunct oral cancer screen technology: Under the tradename VELscope, this technology provides an enhanced oral assessment that allows dentists to detect abnormal tissue changes, symptomatic of dysphasia or oral cancer, at a much earlier stage then the traditional, visual exam allows. When oral cancer is discovered early, the 5-year survival rate for patients is increased to 83 percent. This technology also allows for a quick and painless examination.
Dentistry continues to utilize technological advances that help to make the patient experience better, with improved diagnoses and treatments. With the aid of new technology, dentists can better ensure comfortable, predictable and efficient outcomes for patients. Be sure to ask your dentist how technology has impacted the field of dentistry and your personal oral health.
If you have an oral health question, contact Dr. Rick Farnsworth of Pro Solutions Dental Group — Offices of Jason C. Campbell, D.D.S. — 928-776-1208 or email rfarnsworth@prescottdental.com.